Construction Material Price Spikes, Impacting Real Estate Investors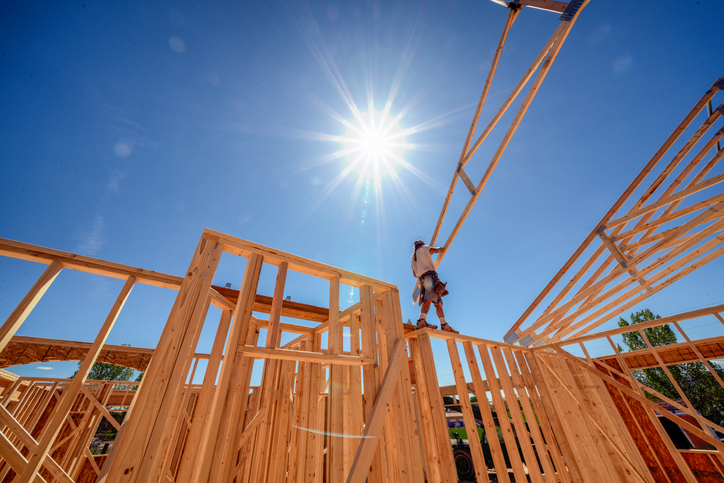 Authored by Jasen Miller, Founder and Managing Partner, Corridor Funding
We have all heard the word "unprecedented" way too often this year. However, it is a fitting description for the surging price of lumber across the country.
The extreme spike in cost stems from limited supply due to COVID-related setbacks and extensive demand. Real estate investors – particularly those in new residential construction – are finding that their projects are more expensive and taking longer than expected.
Prices for basic framing lumber have skyrocketed, costing up to twice as much as the beginning of the year. Builders have been lining up outside lumber yards every morning, hoping to make purchases that will allow them to continue their projects. Although accustomed to typical fluctuation in the lumber market, even industry veterans are shocked by the current situation.
While lumber is getting hit hardest, other construction materials are not immune. One retailer reported to Corridor Funding that window packages are taking three weeks to deliver due to virus-related shutdowns at the factory – compared to the usual ten-day timeline.
What's Behind the Spike
A few factors are contributing to the lumber shortages and resulting price hikes:
As the economy began to falter in early March, lumber mills scaled back production. Some mills also faced shutdowns and reductions in staffing and output due to cases of COVID-19 at their facilities.
As the lockdown continued, millions of Americans shifted to working from home, inspiring home improvement projects. Big box stores saw an increase in business and ordered more from mills that were already low on inventory.
While demand for lumber continued, sawmills were understaffed. With furloughed employees collecting unemployment benefits, many mills struggled to find workers. Many tradespeople are returning to work, but the current shortage isn't expected to end soon, even with increased labor.
These are some of the events affecting the supply of lumber and driving up prices. Despite the setbacks, construction has continued to be an essential industry in most places, and demand remains strong.
What's Next?
The situation has investors wondering whether they should wait to start new projects, hoping that supply will catch up with demand and prices will return to normal levels. Others suspect that this is the new normal.
While this is hopefully a temporary situation, it is also possible that costs will remain high for the foreseeable future, as increased prices have not yet diminished demand. Unless there's a decrease in demand and building slows down, it seems unlikely that prices will fall back to their previous levels anytime soon. Some analysts predict that the situation could continue throughout this year and into 2021.
What this Means for Investors
If your project doesn't require a lot of lumber and can handle delays, the shortages may not affect you much. But if you're moving forward on a new build, there are a few things to consider.
1. Budget more on your line item for lumber. Do your homework on prices in your area. Plan on spending 15 to 30% more than your original estimate, or add this amount to your contingency fund.
2. Plan on a longer timeline. Some hard money lenders only offer a 6-month loan. That may have been enough before COVID-19, but with the delays in acquiring framing packages and other materials, your project may take more time now. Consider shopping for longer-term loans, such as 9 to 12 months.
3. Do your best to secure any supplies you need well in advance. While lumber is hardest hit, some are predicting shortages in other supplies, such as cabinets, roofing, drywall, and other manufactured items.
4. If you're in the middle of a project and facing higher costs or delays, you may need to consider a loan extension. Your lender may offer this option. There are fees for this service, but it may buy you more time to complete your project and sell or rent the property out.
The steep price of lumber can be difficult for investors, but being prepared and working with a trusted lending partner is a good start.
Author Bio:
Jasen Miller is the Founder and Managing Partner of Corridor Funding — the go-to lender for real estate investors. Corridor Funding serves hundreds of loyal real estate investors in Texas, Missouri, Kansas, Tennessee, North Carolina, South Carolina, Georgia, Tennessee, and Florida.